Beyond 50 Radio Show
Tune In Weekly
A Live & Online Broadcast
Beyond 50 is America's Variety Talk Radio Show.  Originally designed for those in midlife (or approaching midlife), we have found over the 10 years of broadcasting that this is truly a program for ALL ages. The online radio show offers compelling topics that are informative, educational, and fun.
Beyond 50 is holistic in it's approach to solution-oriented programming that is alternative-minded and eclectic.  We showcase celebrities, bestselling authors, experts, and visionary leaders  from around the world.  You can experience new insights and breakthroughs not usually found in mainstream resources.
Join Us in the Fun
---

Beyond 50's Upcoming Interviews of 2015             


| | |
| --- | --- |
| | |
| | |
| --- | --- |
| | |
| | |
| --- | --- |
| | |
| | |
| --- | --- |
| | |
---

                        Full Schedule of Talks: March 2015

Interviews Times:
Wednesday at 9 a.m. (PT)/12 p.m. (ET)
Thursday at 9 a.m. (PT)/12 p.m. (ET)


Fridays at 12 p.m. (PT)/3 p.m. (ET)

& 1:15 p.m. (PT)/4:15 p.m. (ET)



Wednesday, March 4 - 

A Doctor's Guide to Alternative Medicine: What Works, What Doesn't, and Why"*


Thursday, March 5 -

Learn Coding & The Tech Academy**


Friday, March 6 - 

Superbrain Yoga & The Aging Brain*


Friday, March 6 -

2077: Knights of Peace** 



Wednesday, March 11 -

The Radiance Process*


Thursday, March 12 -

Farewell My Loves*

*


Friday, March 13 -

Dr. Sandra Bevacqua: Prevention of Cancer*


Friday, March 13 -

Celtic Spirit**



Tuesday, March 17 -

Ignite Your Voice**


Wednesday, March 18 -

Wake Up Beauty! It's Not About the Prince* 


Thursday, March 19 -

Outsmart Overeating**


Friday, March 20 -

Grief Recovery for Pet Loss*


Friday, March 20 -

Teen Coach, Maggie Smith: How I Got My S!#t Together**



Wednesday, March 25 -

How to Win Your Tax Audit*


Thursday, March 26 -

Sacred Plant Initiations**


Friday, March 27 - TBA
Friday, March 27 - TBA





Note: Subject to Change.  




*Episode Can Be Heard on

Archive 1




**Episode Can Be Heard on

Archive 2


---
---

Beyond 50 Radio: Top Video of the Week                           


                                      Superbrain Yoga
For Beyond 50's "Natural Healing" talks, listen to an interview with Linda Negrin. She is a certified Pranic Healing instructor and medicine practitioner in Portland, Oregon.  She'll explain about Superbrain Yoga that is taught by Master Choa Kok Sui, the modern day founder of Pranic Healing. It's a very simple exercise
that anybody can do, and the potential benefits for brain health is well worth a close look.  You'll learn about the impact of a healthy energy body on the brain. Find out about the studies showing positive results from kids with ADD/ADHD who use the Superbrain Yoga technique.  And, Can Superbrain Yoga help lessen the effects of dementia and Alzheimer's?  Tune in to Beyond 50: America's Variety Talk Radio Show on the natural, holistic, green and sustainable lifestyle. Visit www.Beyond50Radio.com and sign up for our Exclusive Updates. 
 
Related Video by Beyond 50 Radio: The Fine Line Between ADD/ADHD & Kinesthetic Learners

---
---

Beyond 50 Radio: Article Of The Week                            



Sacred Plant Initiations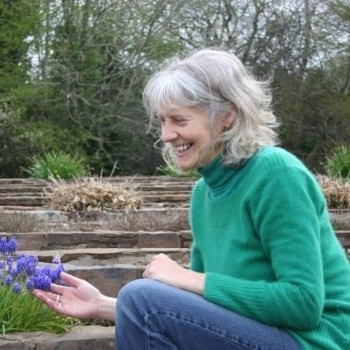 For Beyond 50's "Spirituality" talks, listen to an interview with Carole Guyett from Ireland.  Through her work in as a medical herbalist, she combines sacred knowledge of plant spirit medicine from several shamanic traditions: European/Celtic and Native American.  Guyett will talk about how you can commune with plants and their spirits through "plant dieting" (on non-psychoactive plants) which involves ingesting it over a period of time so you receive its vibratory energy as well as its medicinal actions.  Guyett will also discuss about eight ceremonial initiations that allow you to receive the plant's sacred teachings, and forge a relationship for guidance and healing.
Ceremonial Plant Diets
"A plant diet offers a way to develop a deep relationship with a plant – to bond, to blend, and ultimately to merge.  It is a way to honour the plants and their Dream. These are plant initiation ceremonies.

"The plants can open Gateways to Higher Consciousness and give us a direct experience of other realms and higher dimensions. Physical ingestion helps integrate these new levels of consciousness into the physical body as well as bringing the medicinal actions of the plant, " explained Guyett.
Dieting on the plant is a way of deepening your relationship with Nature and becoming more of our True Self.  It is a simple process. 
You can  getting better acquainted to receive a plant's gift of healing and guidance because it is a conscious spiritual being.  This is done through by gathering, ingesting the plant elixir, dreaming with, then having hands-on experiences with the plant. 
The plant initiation ceremonies are conducted at Guyett's townland in Ireland called Derrynagittah and coincide with the time of the Celtic Fire Ceremonies - involving a full fast or restrictive dieting.  
"During this time we travel deeply with the plant being dieted," added Guyett.
Undergoing a Ceremonial Plant Diet Involves Six Steps:
1. Setting a Sacred Intention for your Plant Diet - This is done before the physical act of dieting.

2. Choosing a Plant to Diet - Guyett usually asks Spirit to intuitively know which plant to work with.
3. Harvesting the Plant and Preparing the Elixir - Through inner guidance from your higher self or non-physical beings like nature spirits, instructions can be received on how to harvest the non-toxic plant and then make a liquid extract of it to be ingested.
4. Spiritual and Physical Preparation for the Plant Diet - This can involve physical purification through fasting to prepare the body for three days in advance and various ways of creating focused spiritual intent, like an invocation to the Holy Spirit.

5. Carrying Out the Diet - The elixir is first offered to Grandmother Earth before ingested at regular intervals over two to three days.  It is followed by Dreaming with the plant, whether awake or asleep, entering into an altered reality to connect with the plant's consciousness.

6. Integration - You can continue to be involved with the plant after the diet through integration.  This involves working with the plant by taking in flower essences or taking a low dose of the elixir for the following two or three weeks.  Guyett also advises being refraining from sharing personal information about any profound, inner experiences from the plant ceremony within the first seventy-two hours.  The plant may want to serve as your ally and have a long-term relationship with you through dreams and chance encounters.
To Hear the Interview, Click on This: Sacred Plant Initiations

---
---