Beyond 50 Radio Show
Tune In Weekly
A Live & Online Broadcast
Beyond 50 is America's Variety Talk Radio Show.  Originally designed for those in midlife (or approaching midlife), we have found over the 10 years of broadcasting that this is truly a program for ALL ages. The online radio show offers compelling topics that are informative, educational, and fun.
Beyond 50 is holistic in it's approach to solution-oriented programming that is eclectic.  We showcase celebrities, bestselling authors, experts, and visionary leaders  from around the world.  You can experience new insights and breakthroughs not usually found in mainstream resources.
Join Us in the Fun
---

Beyond 50's Upcoming Interviews of 2014             


---
---
---

Beyond 50 Radio: Top Video of the Week                           



                             The Nuclear Terrorist


For Beyond 50's "Political & Finance" talks, listen to an interview with

Robert Gleason

.  He'll talk about nuclear terrorism that is a frightening threat, yet

U.S. officials prefer to profit off rogue states instead of opposing and obstructing their nuclear programs. As examples, George W. Bush staffed his administration with officials who privately profited off nuclear rogue states. Donald Rumsfeld worked for a company that tried to sell nuclear reactors to North Korea. Dick Cheney's firm, Halliburton, built up Iran and Iraq's nuclear energy sectors. President Obama's administration is helping to sell high-tech nuclear reactors to Saudi Arabia, even though fifteen out of the nineteen 9/11 hijackers were Saudis and then secretary of state Hillary Clinton had informed Obama that the Saudis were the world's primary financiers of Sunni Islamist terrorism. Nor have these administrations done much about the poor security at U.S. nuclear facilities.

Tune in to Beyond 50: America's Variety Talk Radio Show on the natural, holistic, green and sustainable lifestyle. Visit www.Beyond50Radio.com and sign up for our Exclusive Updates.



---
---




Beyond 50 Radio: Article Of The Week                            






Home Sweet Anywhere:




How We Sold Our House, Created a New Life and Saw the World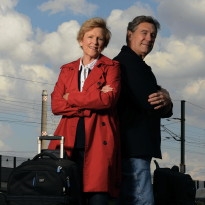 For Beyond 50's "Travel" talks, listen to an interview with Lynne Martin.  In 2010, she and her husband Tim sold their home, disbursed most of their belongings and set out to travel and live around the world for the rest of their lives.  They'll talk about living abroad one country at a time and invented a new vision for a second lease on life.  They pioneered the new "Home Free" movement and engaged thousands of fans from the around the world to want to be "Home Free" too.  But even though they embrace their new home-free lifestyle, the Martins grapple with various challenges their newly global life presents, including hilarious and frustrating language barriers, finding financial stability, and coping with the family they left behind.  But together, they quickly learn how to live a life - and love - without borders while pioneering a new movement of retiring home free.

Taking a Repositioning Cruise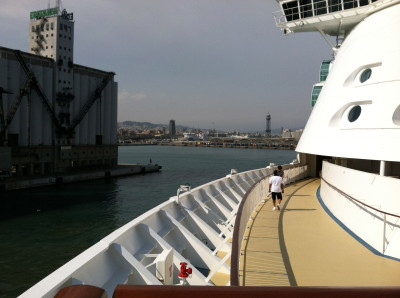 The Martins highly recommend Repositioning Cruises as an inexpensive means to travel worldwide.  "Twice a year, cruise lines reposition their equipment (to warmer climates).  These crossings offer big savings because they're not particularly popular routes," explain Martin.  It's a real bargain because you can save 30 - 70% off the regularly priced, in-season cruise.  Plus, you receive the same amenities like level of service and entertainment as a regular, high season voyage.  The downside, she adds, is that it's not ideal for sun worshippers.  Weather conditions can be foul and unpredictable.
Besides price, Martin suggests that you evaluate the age of the ship and if any mechanical or structural problems exist.  "Quality is more important than price.  Eighteen days on an elderly ship is not necessarily a good bargain," she cautioned.

Selecting a Rental Apartment

Martin offers several basic, guidelines for choosing a rental apartment.  Every time they broke one, it was at a consequence.

Rule #1: Read the Reviews.  Thoroughly read every review on the rental VERY CAREFULLY.
Rule #2: Check for Annoyances.  By using Google Earth, you can view your rental and see what is nearby that can be too annoying to live around.
Rule #3: Study the Listing, Photos and Amenities Scrupulously.
Rule #4: Find Out How Far Will You Be from Public Transportation.
Rule #5: Check the Internet Service.  Ask the apartment owner or representative about the strength of the internet.  Can you get consistent, online access to use Skype and even stream media?
To Hear the Interview, Click on This: Home Sweet Anywhere

---
---