Beyond 50 Radio Show
Tune In Weekly
A Live & Online Broadcast
Beyond 50 is America's Variety Talk Radio Show.  Originally designed for those in midlife (or approaching midlife), we have found over the 10 years of broadcasting that this is truly a program for ALL ages. The online radio show offers compelling topics that are informative, educational, and fun.
Beyond 50 is holistic in it's approach to solution-oriented programming that is eclectic.  We showcase celebrities, bestselling authors, experts, and visionary leaders  from around the world.  You can experience new insights and breakthroughs not usually found in mainstream resources.
Join Us in the Fun
---

Beyond 50 Radio: Upcoming Interviews                   



Police State USA
Tuesday, July 1
9 a.m. (PT)/12 p.m. (ET)
---
                                      Full Schedule of Talks: June

July 1 - Mending the Net: Mending the Dysfunctional Family
July 2 - Police State USA
July 3 - The Gates of Power: Actualize Your True Self
July 4 - (No Interview Due to 4th of July Holiday)

July 9 - Holistic Psychotherapist, Zoey Presley
July 10 - The Late Starters Orchestra
July 10 - My Foreign Cities, A Memoir
July 11 - The Secret Teachings of Plants

July 16 - I'm Not Dead, I'm Different
July 17 - Michael Sheridan: Dream Analysis
July 18 - The Emissary
July 18 - Giving Hope Team

July 23 - Using Love's Compass to Navigate Life
July 24 - Filmmaker, Jim Abrahams
July 25 - Mystic Healer, Sonja Grace: Earth Angel
July 25 - Thriving with Pain
July 30 - The Nuclear Terrorist
July 31 - Inside Out: Breakthrough Strategies for Mastering Your Finances
 
*Subject to Change.

*If you happen to miss any of our past interviews, you can hear them from our listings: archive 1 and archive 2.
 

---
---

Beyond 50 Radio: Top Video of the Week                           





                    I'm Not Dead, I'm Different


For Beyond 50's "Spirituality" talks, listen to an interview with Hollister Rand. She is a world renowned medium. She'll talk about the many young spirits who have chosen Hollister to deliver their important messages about forgiveness, and with it insights into the issues surrounding abortion, murder, suicide, and accidental death. Speaking with wisdom that surpasses their years on Earth, young spirits provide comfort and inspiration to anyone willing to listen. What they have to say about living after death can be life-changing for all of us. Tune in to Beyond 50: America's Variety Talk Radio Show on the natural, holistic, green and spiritual lifestyle. Visit www.Beyond50Radio.com and sign up for our Exclusive Updates.


---
---




Beyond 50 Radio: Article Of The Week                            




Filmmaker, Jim Abrahams
&
The Ketogenic Diet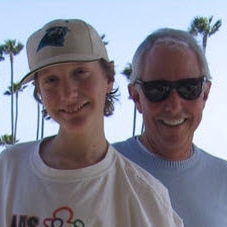 For Beyond 50's "Celebrity" talks, listen to an interview with Jim Abrahams.  He is best known for the spoof movies that he co-wrote and produced such as "Airplane!" and "The Naked Gun" series.  He had also produced movies of his own called "Big Business" and its sequel, "Hot Shots!"  You'll learn about his son named Charlie who had difficult-to-control epilepsy that began in 1992 since he was one-years-old.  As a last resort, they turned to the Ketogenic Diet through the John Hopkins Hospital for help.   
The diet worked!  Within 48-hours, Charlie miraculously went from having about one hundred seizures a day to none at all and get off of the 4 anti-convulsant medications he was taking within a month.  Remarkably,  Charlie became epilepsy-free for over twenty years. 
Abrahams and his wife Nancy co-founded The Charlie Foundation for Ketogenic Therapies in 1994 to provide diet therapies for people with epilepsy, autism, brain tumor/cancer, early-onset Alzheimer's, Traumatic Brain Injury, Parkinson's Disease, Lou Gehrig's Disease, and Mitochondrial disorders.
The Ketogenic Diet

Beyond 50 wants to make it clear to those who are interested in the Ketogenic Diet that under no circumstances should anyone other than a  trained health professional administer this diet.  Please consult with your physician.
Called the "long chain triglyceride diet," the Ketogenic Diet is a mix of high-fat and low-carbohydrates.  It has helped children whose seizures have not responded to several different seizure medicines.

This specialized diet has cured tens of thousands of children of their seizures for over ninety years at Johns Hopkins and other prominent medical institutes.   However, in the 1940s, with the advent of anti-seizure medications, it's use declined considerably.  It was on the verge of extinction by the early 1990's.
According to the Epilepsy Foundation, the Ketogenic Diet is stricter than the Atkins diet because it requires careful measurements of calories, fluids and proteins.
Abrahams added in the book, "Honest Medicine," that there are "two new versions of the diet developed - the Low Glycemic Index Treatment and the Modified Atkins Diet - less restrictive diets for older children and adults.  New infant formulas have made the diet accessible to infants and tube-fed children."
"Success on the Ketogenic Diet involves planning and cooperation by a team involving the child's family, pediatric neurologists and epileptologists, staff nurses, dietary and pharmacy staff.  It also takes commitment for follow-up at hom for a period of one to two years.  After that time, most children are able to eat a normal diet," wrote Millicent Kelly, RD. in the same book.

To Hear the Interview, Click on this Link: Filmmaker Jim Abrahams
---
---