Mending the Net:
A Guide to Healing Self & Family

For Beyond 50's "Personal Growth" talk, listen to an interview with Katherine Boyer. She'll talk about our families as our net of love.  Mend  your net and find healing.  If you grew up in a dysfunctional family, you can create a healthy, happy family.  Learn about new methods for how to do this emotional work. You can take your negative childhood experiences and turn them into a healthy self and healthy family, and achieve an alchemic transformation. By re-patterning the past, you'll heal the future.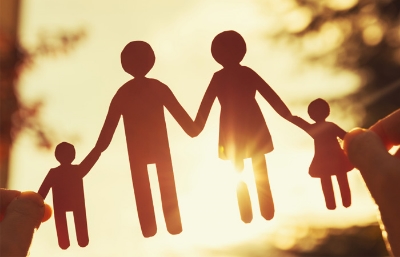 "Love is connection to the net."
- Katherine Boyer

Listed below are examples of unhealthy family rules that are hurtful and squelch an individual's true feelings:

DON'T TALK
Keep secrets from the outside world and from ourselves. Silence. Pretend that everything is okay.

DON'T TRUST
Particularly don't trust others, keep all the information inside the closed family system.  Do not share with an outsider, because it would be shameful to share the secrets.

DON'T BE SELFISH
Ahh, don't be selfish. I love that one. I think it is a special rule made just for eldest daughters so that they will be certain to be chained to the family and take care of all the hurts of the others. It would be selfish to ask for any nurturing or nourishment for yourself. After all, don't you have a bed and food and water and clothes?

DON'T FEEL
If one feels because it is too painful. The way to start opening up slowly to your
feelings is to make sure that you have protected yourself by being in a safe environment, with safe people who wish you no harm. It is important to be with others who want only goodness and love for you. The band-aids have to be taken off slowly, carefully, consciously.  Seeing people you love hurt each other can be traumatizing.  Either cold indifference or callous disregard can be harmful to a young child.  Some experiences are so emotionally exploitive that a child zones out to not feel too much or too deeply.

DON'T ROCK THE BOAT
Of course not, because then everyone will feel the pain. If you rock the boat you will be blamed for upsetting the status quo. Don't change the role that you've been given in the family, even if you don't like that role; the hero, the scapegoat, the lost child, the mascot, to name a few.

DON'T ASK FOR HELP
Asking for help exposes your weaknesses and anxieties. If you ask for help, you may be rejected or laughed at, denied or denigrated. It is safer to not ask for anything and hope that you know what you are doing.  Asking for help, asks your parents to put their needs on hold, to be able to address your needs.

IT IS WRONG TO BE ANGRY OR SAD
Feelings are not to be shown unless the feelings are happy, cheery, and telling the family lie, the family myth, that all is well. It is not your place to have these feelings, as you are only a child.

YOUR NEEDS ARE NOT AS IMPORTANT AS OUR NEEDS
And certainly don't complain. We parents have it tough, and you can just put up and shut up. Just obey.

DON'T QUESTION
Of course you've seen the statement, children should be seen and not heard.

HONOR THY FATHER AND THY MOTHER, NO MATTER WHAT OUR ACTIONS ARE
Follow us, no matter what, even if we are addicted, or abusive, or threatening, or despondent, or morose. We are the parents, and you are the child. And if we drink or smoke or have affairs, you can't do what we do, you can only do what we say.

A Guide to Healing Self & Family:

---