Beyond 50 Radio Show
Tune In Weekly
A Live & Online Broadcast
Beyond 50 is America's Variety Talk Radio Show.  Originally designed for those in midlife (or approaching midlife), we have found over the 10 years of broadcasting that this is truly a program for ALL ages. The online radio show offers compelling topics that are informative, educational, and fun.
Beyond 50 is holistic in it's approach to solution-oriented programming that is alternative-minded and eclectic.  We showcase celebrities, bestselling authors, top experts, and visionary leaders  from around the world.  You can experience new insights and breakthroughs not usually found in mainstream resources.
Visionary, Informative, Fun
---

 Beyond 50's Radio Interviews: June 2018  


---

Beyond 50 Radio: Top Video of the Week    


    The Basics of Keyhole Gardening

For Beyond 50's "Green & Sustainable Lifestyle" talks, listen to an interview with Leon Smith from Texas.  He is an avid gardener who likes to educate about the practice of Keyhole Gardening to sell a variety of own Keyhole Gardening Kits online.  Smith prefers this method because it's easier on the back, plant crops can be grown closer together, water efficient, and doesn't require weeding.  From a bird's eye view looking down on it, the structure looks like an old-time keyhole. In the middle is a rounded area to drop in your compostable materials that would break down to enrich the soil.  Find out about the system he had built that includes a retractable cover; how to set it up for your plants and flowers to thrive; and ease of use for those in midlife and older. 

---

 Multimedia Gallery: Random Selections  


---

Beyond 50 Radio: Article of the Week

 Related Interview: 

Vastu: East Indian Feng Shui

For Beyond 50's "Spirituality" talks, listen to an interview with Karen Andersen.  She'll talk about her work as a Vastu practitioner.  Vastu is an East Indian form of Feng Shui - a powerful way to realign the energy in your environment (temples, homes, and buildings) so you feel happier and less stressed.  Many of her clients notice the difference in how much "lighter" they feel immediately after a Vastu session.  Similar to the Chinese practice, Vastu predates it by about 1,500 years and is based on the balance of the 5 elements: air, fire, earth, water, and space.  She'll explain some practical ways to apply Vastu in your home.

Basic Principles of Vastu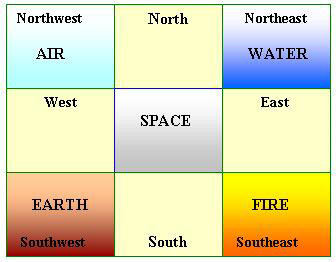 There are many steps that can be taken prior to the construction of a home, based on Vastu knowledge.  Feng Shui differs in that respect because it is used after the construction of a home or building.
In both sciences, steps are taken to encourage the flow of Qi (or prana) energies in your environment that can be felt, noticeably.
Some basic understandings in applying Vastu involve shape, direction, Nature's elements, and materials used:
 - Energy flows best in a rectangular and square structure.  They signify shelter, stability and safety.  Where energies get stuck, a Vastu practitioner corrects the stuck flow with yantras and mantras that are a mix of visual symbols (made of royal treasure or metal) selectively placed and sounds made;
 - The direction of each room and its associated element matters: NE-Water Element-Represents Spirituality and Flow of Abundance/Prosperity-Living Room, Meditative Room; SE-Fire Element-Kitchen, Electronics; SW-Earth Element-Master Bedroom, Placement of Plants; NW-Air Element-Represents Relationships & Quality of Thoughts and Emotions-Guest Bedroom; Center-Space Element-Affects Success in All Areas of Your Life-Middle of House.
 - The Center of the house should be clutter-free and empty;
 - East-Northeast is the best direction for a home's main door to allow for the positive energies of light from the sun for the household;
 - Place small bodies of water, like a small fountain, aquarium or earthen bowl of water in the Northeast side of the home;

 - The 5 elements of air, water, earth, fire and space are not only associated with the environment, but the body as well for health and healing;

 - A person's home is considered to be a shrine for spirituality and growth;
 - Emphasis on having natural, non-toxic materials in the home, temple and building;
 - The right proportion and measurement is also considered.

Feeling the Difference

As a science based on structures, vibrations and energy, Vastu can play a role in your health, happiness and harmony.
Some of the practical, Vastu recommendations can yield immediate benefits that can be felt, such as getting more sound sleep.  For best results, it's best to sleep with the South wall behind you.  Humans are electro-magnetic beings that can feel the Earth's lines of stress, like too much mind chatter at bedtime, when we sleep in the wrong direction.  It also helps to create a relaxing ritual at night that encourages rest because what is experienced before sleeping enters the subconscious mind to affect your dreams.
An excellent placement of windows is on the Northeast side, based on the cosmic forces of Nature, recognized in Vastu.  Positive magnetic energies come from the North direction and solar energies from the East.  Brain wave studies on children to measure their academic performance at school confirms that the North direction that is aligned with the positive magnetic energies supports our left brain analytical thinking, while the East's solar energies supports the right brain, creative thinking processes.

When you balance the elements in your environment, opportunity will come.  This has been proven by the clients that Sheridan has worked with.
It can take anywhere from moments, months to years to feel the effects of Vastu in your home, she added.
To Hear the Interview, Click on This: Vastu