Beyond 50 Radio Show
Tune In Weekly
A Live & Online Broadcast
Beyond 50 is America's Variety Talk Radio Show.  Originally designed for those in midlife (or approaching midlife), we have found over the 10 years of broadcasting that this is truly a program for ALL ages. The online radio show offers compelling topics that are informative, educational, and fun.
Beyond 50 is holistic in it's approach to solution-oriented programming that is alternative-minded and eclectic.  We showcase celebrities, bestselling authors, top experts, and visionary leaders  from around the world.  You can experience new insights and breakthroughs not usually found in mainstream resources.
Visionary, Informative, Fun
---

     RADIO INTERVIEWS: MAY 2021     


---



          TOP VIDEO OF THE WEEK          

   


How to Get 100+ Miles Per Gallon from Your Car
For Beyond 50's "Sustainable Practices" talks, listen to Wayne Gerdes who coined the phrase "highmiler" to mean someone who is obsessive about getting as much miles per gallon out of any vehicle they drive.  He is well known for getting up to 180 m.p.g. from non-hybrid cars and he'll explain how it can be done.  You'll learn about beginner and advanced methods.  Tune in to Beyond 50: America's Variety Talk Radio Show on the natural, holistic, green and sustainable lifestyle.

      RELATED VIDEO      


Join the Free


Energy Movement




---

       SPECIAL EVENTS & OFFERS: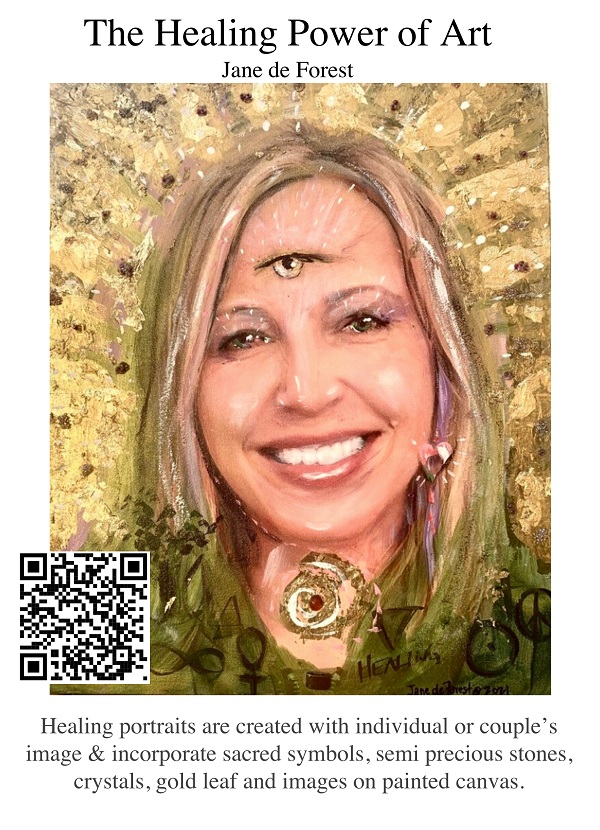 The Healing Power of Art

Healing portraits are created with individual or couple's image & incorporate symbols, semi precious stones, crystals, gold leaf and images on painted canvas.  Offered by Jane de Forest, visit janesinspiration.com.

Shaman's Journey & Art
May 11, 26 & June 10
Is your soul ready to heal? Is it time to take your power back? In this three-part course, you will have a rare opportunity to experience three deep and powerful classic Shamanic journeys. From the Shaman's perspective, fatigue, illness, depression, spiritual confusion and loss of abundance are symptoms of spiritual problems in subtle realms—over time they become physical. There are two major reasons for this: soul loss from past trauma and disconnection with spiritual guidance or a "Power Animal." The Shaman's solution is to help you collect & assimilate your lost soul fragments, and find & reconnect with your Power Animal & guides.  Is now the time for self-healing? In this course you will have an opportunity to document your journeys with art & writing, as well as sharing your experience with fellow travelers. Taught by Jane de Forest, each class builds on itself, each class will be recorded on Zoom. Includes Journey booklet ($175 regular) $125 early bird, limit 9 people to each class. BIPoC (Black, Indigenous, People of Color) & single mom scholarship, email Jane for details: janesinspiration@gmail.com.  This is not a substitute for licensed professional medical treatment.  Part One called "Shamanic Journey" is on Tuesday, May 11, from 6 - 8 p.m.; Part Two called "Power Animal" is on Wednesday, May 26, from 6 - 8 p.m.; and Part Three called "Soul Retrieval" is on Thursday, June 10, from 6 - 8 p.m.  To register, visit janesinspiration.squarespace.com/intuition-art-class-2021.


---



       MULTIMEDIA GALLERY: RANDOM SELECTIONS       




---


     BEYOND 50 RECOMMENDS     


Why We Recommend: AlgaeGrow is made from a mix of fresh algae and other supplements that is based on the science of regenerating your soil to rebuild it and grow nutrient-dense and flavorful foods.  Give it a try for your health!

Why We Recommend:
Angela DeBill introduced on the show what she called the

"Unicorn of CBD"

.  It's a CBD fluid that's highly potent for how it's processed in a proprietary way that preserves the whole medicinal profile of the hemp flower, compared to similar CBD products in the market that can't make the same claim.  She has other unique products for helping you to heal naturally, so tune in!
 

---



      ARTICLE OF THE WEEK      




Autism Breakthrough

For Beyond 50's "Medical Care" talks, listen to an interview with Raun Kaufman.  As a boy, he was diagnosed as severely autistic with an IQ of below 30 and destined to spend his life in an institution.  Years later, Kaufman graduated with a degree in Biomedical Ethics from Brown University and has become a passionate and articulate Autism expert and educator with no trace of his former condition.  He'll talk about his parents helped him to completely recover from Autism within three years through their revolutionary Son-Rise Program.  Avoiding the techniques of behavior modification, they understood how repetitive behavior patterns give autistic children an illusion of control — Autistic children deal with sensory overload by shutting out their environments. You'll learn about the principles involved that has helped thousands of families worldwide.

His Story

Before the age of one, Kaufman suffered a severe ear and throat infection, followed by a violent allergic reaction to the antibiotics prescribed.  He then showed signs of "spiraling ever deeper into my own world," as Kaufman described it.

Instead of accepting the grim, medical prognosis given to Kaufman's parents, Barry and Samahria, chose to not believe that their child would have to live with Autism permanently and resigned to be in an institution.

"And so they began an experiment.  They began by seeking to create an environment where I felt truly safe.  They didn't push me.  They didn't try to change my behaviors.  They sought first to understand me...How amazing that my parents began from this most kind and useful place," added Kaufman. 

Going against the traditional behavior modification techniques, his parents made patient and persistent attempts to understand, motivate, and "join" in his world, rather than conform to theirs.  They were always communicating in thousands of ways that he is safe, loved and accepted - cherishing every aspect of their child, even the ones that make him  different.  There was no judgment, only total acceptance and genuine interest in being in his world.

Slowly, their innovative home-based experiment began to work.  Kaufman showed signs of social connection, drawing him gradually into their world in an interactive way.

"For three and a half years, they worked with me, painstakingly building a bridge from my world to theirs.  And it all paid off," wrote Kaufman. 
His recovery in the late 1970s lead to helping more children on the Autism spectrum with the creation of the Son-Rise Program, that lead to founding the Autism Treatment Center of America (ATCA) in 1983 that serves as the teaching center of the Son-Rise Program globally. 

Joining Their World

By definition, Autism is not a behavioral disorder but a social-relational disorder. It is called that because an Autistic child has trouble bonding to form relationships.  

Joining is done by the caregiver participating in the same stimming (repetitive autistic behaviors) as the child.  This seems counter-intuitive, but it actually works to reduce the stimming behaviors.

The best time to join is when the child is doing a very specific type of behavior called an "ism".  That is when the behavior is both repetitive and exclusive (excluding other people, making it a one-person show). 


Some Principles of the Son-Rise Program
See Through Your Child's Eyes Through Joining - It's the reverse idea of allowing your child to be your teacher so that you can conform to their world instead of having them conform to yours.  

Stay Fresh and Creative to Create Motivation-Based Activities - By not censoring your ideas, you can be the parent that's a never-ending generator of them.  With simple items in your environment to create motivation-based activities - called the "anything-can-be-anything idea."

Socialization Over Academics - Autism is a social, relational, interpersonal, and interactional disorder.  Academics is secondary, even though school learning is important.  When they are more responsive to people (as measured by an increase in eye contact and nonverbal communication, verbal communication, interactive attention span, and flexibility), then you can open up their academic life.

Giving Control Can Generate Breakthroughs - This supports the concept of giving more control to the child so they're less controlling (more flexible and open to learning to achieve goals).  Control battles can be disabling to a relationship and your child associates learning or what you want with coercion and unpleasantness.

Celebrate Your Child with Great Energy, Excitement, and Enthusiasm When They Try and When They "Get It Right"
To Listen to the Interview, Click on This: Autism Breakthrough

       RELATED INTERVIEW