The Art of Healing Art:
The Keys to Power & Awareness

For Beyond 50's "Spirituality" talks, listen to an interview with Jacqueline Ripstein.  She will talk about her Invisible Art & Light technique that inveighs images in multiple wavelengths with the vibrational power to heal instantaneously.  Her method and effects on many have been documented by researchers.  And, by design, you can open any page of her artistic book to see the exact, right message at that moment to provide guidance and wisdom.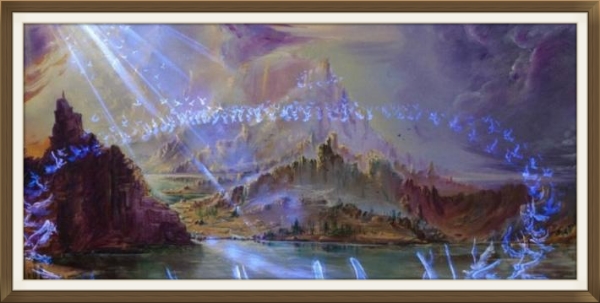 "I realized my art was a doorway, a portal to Invisible realms, connected to emotional healing and spiritual power...What's more I understood that others too could achieve through each painting an energetic connection with higher levels of their consciousness."              -  Jacqueline Ripstein

The Invisible Art & Light Technique

Since 1984, Jacqueline Ripstein has followed the directions her Inner Being to portray the Invisible World through her artwork.  She embarked on an in-depth study of colors on esoteric levels, relating them to harmonic codes and octaves of vibration that can be felt, especially the brilliant hues that can nourish and nurture who we are as Soul.

According to her, "the vibrations emitted by my paintings and their crystals when exposed to ultraviolet Light, represent much more than a certain technique or invisible colors.  They are very high vibrations that move and elevate the viewer to higher and superior dimensions where the Spirit is manifested."

"In a world of enhanced ultraviolet, we would be able to transmute ourselves from brute, self-centered beings to radiant, Spiritual Beings," explained Ripstein.

On the opposite side of the spectrum, under the red color are the infrared frequencies. 

"An infra-human being belongs to a group lower than human beings and dwells in the lower red frequencies that ignite our animal, infernal side.  Many people - through the psychic and physical violence born of hatred and anger - live 'infra-human" lives," she added.

There are a wide range of colors vibrating at different frequencies affecting us in various ways.  They exist on the physical worlds of matter and Invisible worlds.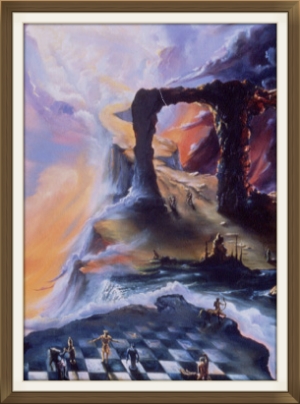 The Colors of Life:
Yellows - Connects us with our inner force.
Oranges - Gives us the subtle energy of life, reinforcing our creativity and sensuality.
Greens - The vibration of the heart and the essence of Life - nourish and cure us, mediating between Heaven and Earth.
Blues - Give to all beings the breath of life, which connects us to Heaven and awakens our desire to abide in the Spiritual World of our Soul.
Violets - Connects, elevates, and awakens us to our Inner Being.

In conclusion, "The Invisible techniques I developed in my Art contain the violet flame power.  May this vibration descend as a beam of spiritual energy and burst into a spiritual flame in your heart, as its flame reveals within you the qualities of Love, Compassion, and Forgiveness."

---