Hidden Meanings Behind
the "Creed 2" Movie (Spoilers)
Reviewed by Joy Davis
Synopsis: Selected by "Conscious Movie Reviews", "Creed II" is an action and adventure drama that pits Adonis "Donnie" Creed and Viktor Drago in an epic boxing match that is reminiscent of the one between their fathers that ended in tragedy.  For Ivan Drago, this fight is a chance at regaining his lost glory and respect from countrymen from losing it in the ring thirty three years earlier to Rocky in Russia.  Viktor is favored to win and "break" Donnie in the ring.  Will history repeat itself?
Warning: Spoilers within the Presentation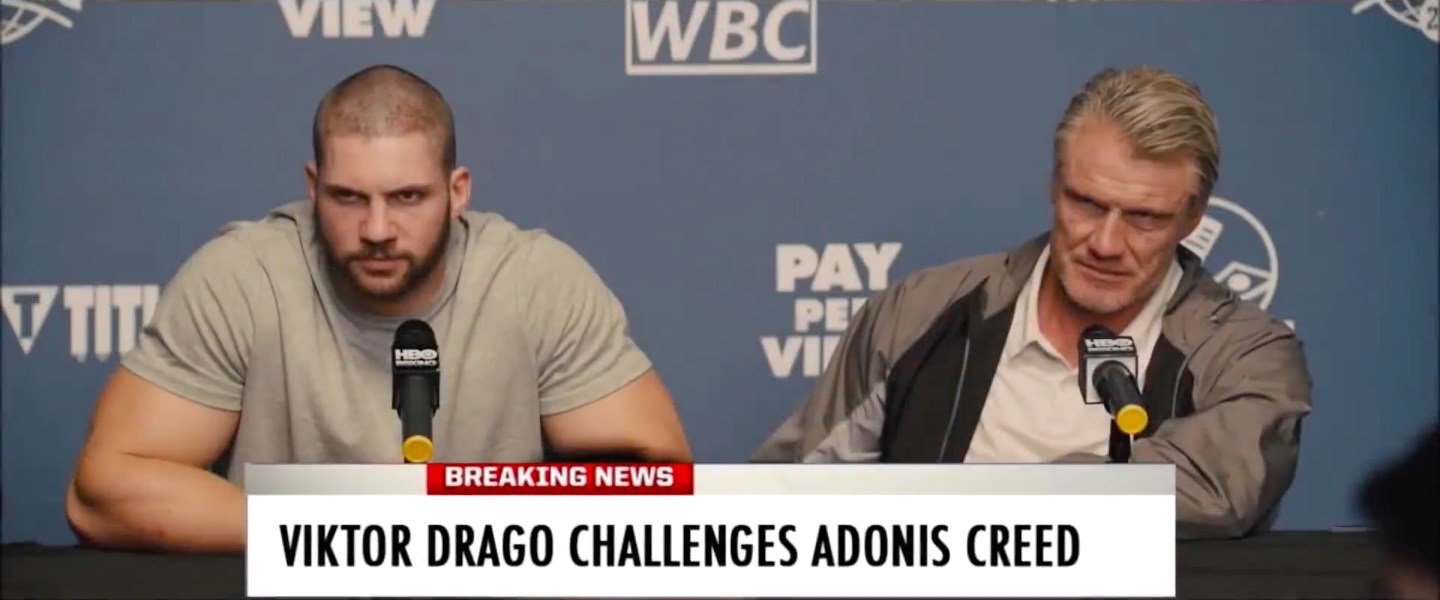 Drago Versus Creed
Welcome to "Conscious Movie Reviews."  I'm your host Joy Davis and here to review the sports drama, "Creed 2."
Three years after losing to "Pretty" Ricky Conlan, it took eight consecutive wins for Adonis "Donnie" Creed to earn the WBC World Heavyweight Championship, under the mentorship of Rocky Balboa.  He added another  win when longtime girlfriend Bianca Taylor accepted his proposal for marriage. 
In the Ukraine, Viktor Drago received intense training by his father, Ivan, the former prize champion boxer.  He was unbeatable, capturing the interest of boxing promoter Buddy Marcelle.  They would arrange an exhibition fight between Drago and Creed - reminiscent of when their fathers fought thirty three years earlier that ended in the tragic death of Donnie's father.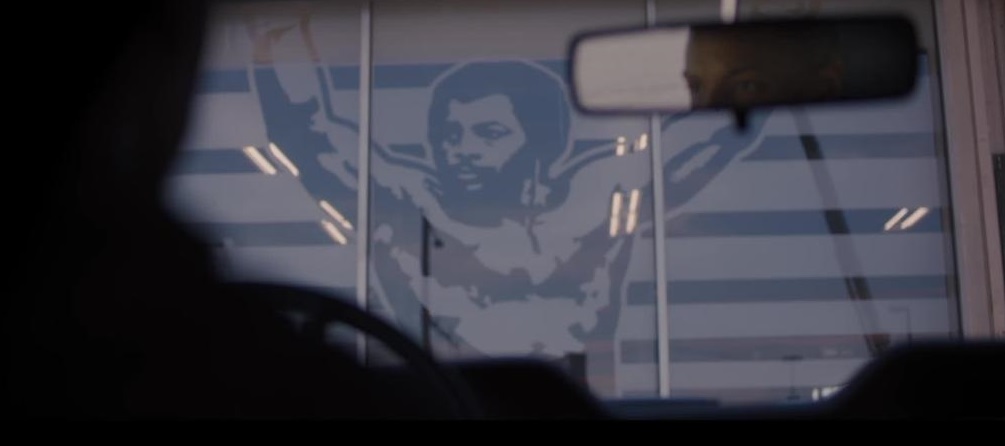 Father-Son Relations
Ivan showed up in Philadelphia to have a tense discussion with Rocky.  After losing their bout in Russia, he was abandoned by his countrymen and wife, like a stray dog with no food or home.  Viktor will break Donnie to regain his glory again.
The relationship between Ivan and his son is one of family enmeshment.  Raised by a narcissistic father, Viktor lost his sense of self to merge his wants and needs with him.  So Ivan's shame was Viktor's to bear.  Even fatherly love was not a given, but earned by being a bully in the ring.  Ivan made sure that his son stayed true to his birth name of Viktor that means winner, conqueror.  
Rocky refused to participate, for fear of another death match.  Without his coach's support, Donnie would fight without him.  He left Philadelphia for a new life with Bianca in Los Angeles. 
Raised without a father, Donnie suffered from anger, grief and a deep-seated fear of abandonment.  According to self-help expert Susan Anderson, grief involves shame at some level.  For Donnie, it's the shame of being thrown away, intensified by Rocky's decision to not coach him for the upcoming match.   
At home, Rocky dealt with a broken light that needed fixing and feeling estranged from his adult son, Robert.  Both incidences relate in a symbolic way to how he's no longer the "guiding light" for these young men.  They've gone dark on him. 
I Will Break Him!
Donnie was warned by his new coach that Drago's kid is "big, fast, strong, unorthodox - a monster.  It's a balanced breakfast over there."  He was undeterred, confident in his head only, but not with the heart.   
During the exhibition fight, Ivan encouraged his son to break Donnie with power punches to the ribcage, then deliver a final blow -  an illegal head shot for a knockout.  Viktor was disqualified for hitting an opponent while he's down.  With no winner declared, Donnie remained the champion.
On a subconscious level, the ribs are associated with family and close friends.  They serve as your security and protection, like the walls of your viscera.  Donnie broke his relations with Rocky, mother and wife by being emotionally distant towards them.   
Listening to the Inner Voice
While Viktor's popularity grew in Russia from winning a series of fights, Donnie was broken in spirit and forced into a rematch to keep his title.  This time, it would be held in Moscow.
Rocky showed up again to offer emotional support.  Donnie admitted to suffering from fear and self-doubt, being in the shadow of his father's greatness as a boxer.  He also admitted to having lost the voice in his head.
Donnie was referring to the inner voice, our gentle guide to a life of greatness.  When you get out of the habit of listening to your inner voice, it gets quieter and quieter.  A heart filled with gratitude can bring it back, loud and clear.  Having a newborn daughter who was hearing impaired served as a reminder for Donnie to listen even more for the small, still voice within the silence for guidance.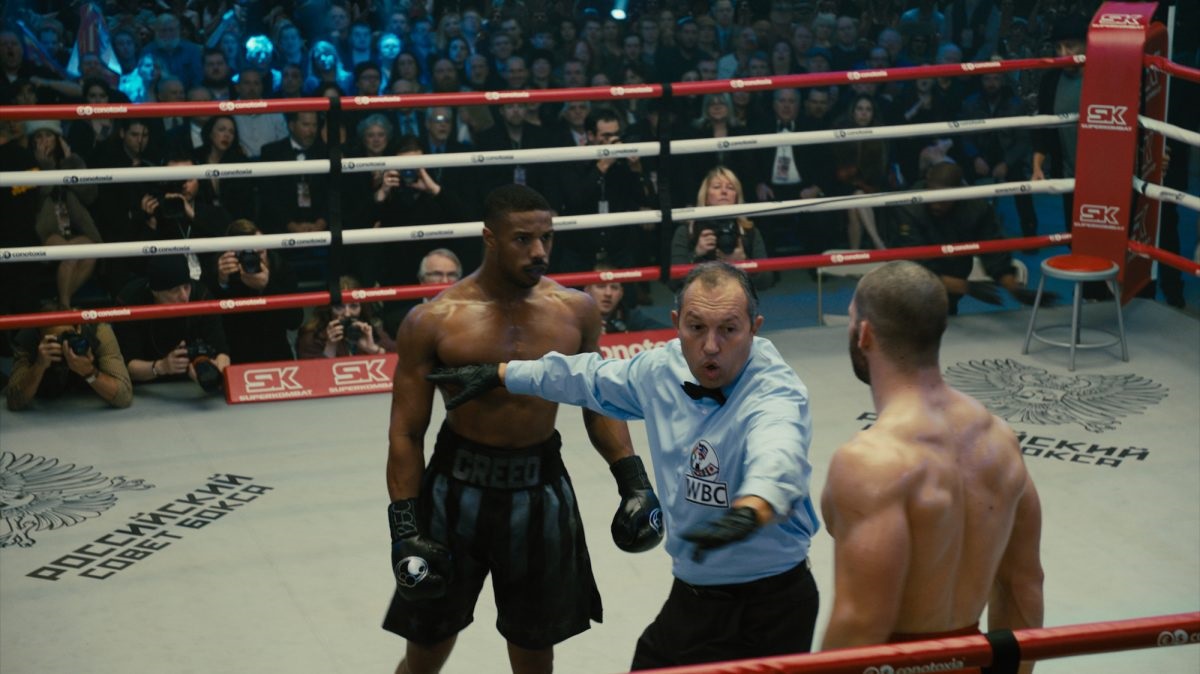 Abandonment Versus Enmeshment
By making amends, Rocky became Donnie's coach again.  He would train him hard in the desert where other fighters go to start over - get reborn.  Donnie was placed in hellish conditions, like toe-to-toe boxing with a tire.  He was ready this time, aligned in body, mind and spirit, to defend his title. 
Viktor was favored to win the match.  Donnie made his grand appearance with Bianca singing and Rocky by his side as a team.  Within the first few rounds, they traded hard blows, both with enough strength and fortitude to take each other's abuses.
What appears to be an epic battle in the ring is really a desperate fight for autonomy from their fathers.  In one corner, you have the abandoned going against the enmeshed in the other corner. 
Donnie's abandonment issues kept him from asserting his newly developing self.  Getting trained in toe-to-toe boxing resembled what Viktor was use to from being enmeshed with his father.  The tire represented emotional restriction where boundaries are not respected.  They both had little room to be independent.  
Even Rocky's son had to declare his autonomy by moving away from his father, creating estrangement between them.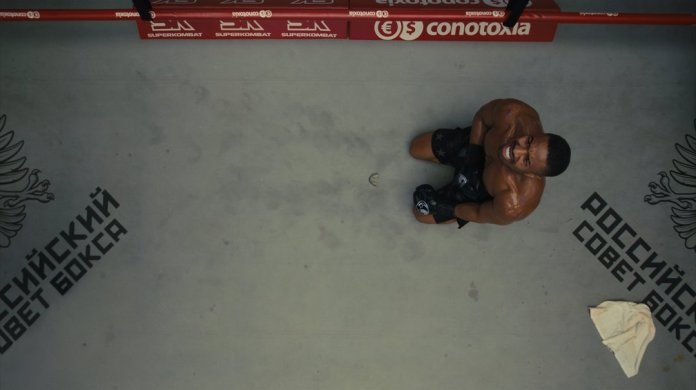 Moving Forward in Peace
Donnie persevered with a broken rib cage in the ring.  He landed punches to knock out Viktor twice.  Ashamed of her son, Viktor's mom left the building.  It threw him off, emotionally.  Viktor lost his will to fight back while being cornered.  This was Donnie's chance to break him.  Not wanting a repeat of the past, Ivan threw in the towel.  Donnie was declared the winner and remaining world champion.
In the end, all of the three sons made peace with their father in a loving way.  

---