Beyond 50's Top 25 Interviews




#22
Marianne Williamson:
Embracing the New Midlife
For Beyond 50's "Personal Growth" talks, listen to Marianne Williamson, an internationally renown author and lecturer. She will share her insights about midlife as an "Age of Miracles." According to her, it's not a time of crisis, but more of a celebration and great rebirth.  
Related Interview:
---

Related Article: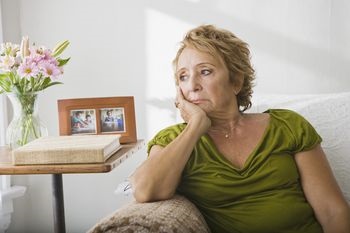 We Don't Talk Anymore:
Healing After Parents and their Adult Children
Become Estranged
For Beyond 50's "Personal Growth" talks, listen to an interview with Dr. Kathy McCoy.  She'll offer her insights into why parents and their adult children are not on speaking terms.  You'll learn why fathers are more likely to become estranged because of divorce, while mothers are more likely to become estranged because of continuing demands for closeness or giving unsolicited advice; why an adult child at odds with a mother's core values is more likely to be estranged than a child who is arrested or involved in substance abuse; why estrangements are more likely to spring from a conflict of needs, rather than verbal sparring; why helping an adult child financially can increase the likelihood of estrangement; why having a good relationship in the growing-up years is not guarantee that you'll never be estranged; and more. Dr. McCoy will show families how to break the silence, and find new understanding and reconnection.   

"The Silent Epidemic"
For many, being estranged with your adult child was a process that did not happen overnight, leading to physical and emotional estrangement. 
It's known as "The Silent Epidemic."  Many going through it oftentimes harbor feelings of shame that stems from failure, making it difficult to admit to others.  It's a parent's worst nightmare, suffered in silence and self-isolation.
Common Reasons for Estrangement
Dr. McCoy offers ten facts about Parent-Child Estrangement:
1. You Are Not Alone - Based on a U.S. story of adult children, 7 percent reported being emotionally detached from a mother and 27 percent were detached from a father.
2. Fathers Are More Likely to Become Estranged as a Result of Divorce, Either in the Distant Past or via a Recent "Gray Divorce" -  Many long-married couples who divorce in mid-life, called "gray divorce," can create conflicts with their adult children who feel like they are compelled to take sides or resent the changes from the family breakup.
Typically, the divorced father receives less contact, while the mother gains more frequent contact from her children.  
3. Mothers are More Likely to Become Estranged as the Result of Continuing Demands for Closeness or Giving Unsolicited Advice 
4. An Adult Child Who Is at Odds with Mother's Core Values Is More Likely to Become Estranged than an Adult child Who is Arrested or Involved in Substance Abuse
5. Estrangements are Less Likely to Spring from Verbal Sparring than from a Conflict of Needs - As parents age, their adult children often become their primary social contact, growing needier for more closeness.  This can clash with an adult child's responsibilities at home and work, causing ambivalence and conflict.  They want to help, but resent having to take care of a dependent parent.
6. Some Emotional Distance Actually Can Improve the Relationship and Make Estrangement Less Likely - For some parents and adult children, psychological distance can be a bridge to a different kind of intimacy that's improved from stepping back to re-evaluate their relationship.
7. Helping an Adult Child Financially Can Actually Increase the Likelihood of Estrangement - Money issues can come from parent who wield financial power.  Adult children can view financial support from them as a kind of bribery or way of having more say over their life.
8. An Estrangement Isn't Just between a Parent and an Adult Child - The whole family can be affected by the conflicts.
9. Having a Relationship in the Growing-Up Years Is No Guarantee That You'll Never Be Estranged 
10. Parents and Adult Children Don't Always Agree on the Reasons for Estrangement - A study of estranged parents and adult children found that parents tended to blame the estrangement on sources outside of themselves, such as relationships they find objectionable.  Adult children tended to attribute estrangement  to the personal characteristics or behavior of their parents, such as toxic behavior or feeling unaccepted or unsupported.
Self-Help Recommendations
For those parents who have made great attempts to reconnect and make amends through better communication, but can't break the silence of estrangement, seeing the situation as perfectly imperfect to live with what is and creating a life of your own helps a lot.  She offers other recommendations:
 - Forgive Yourself and the Other Person
 - Don't Let Your Pain Define Your Life - By allowing the negative feelings to set the tone of your daily living, it only worstens the pain and isolation.
 - Break Your Isolation - The price you pay is that isolation maintains the pain to keep you on the sidelines as a perpetual outsider.
 - Take Care of Yourself
 - Accept What Is Right Now and Keep Your Mind Open - Coming to a place of calm acceptance can give you rest and comfort to keep going on with your life.
 - Let Love Into Your Life - It's to value, rather than devalue through withdrawal, the love that remains around you from others, including a beloved pet.
 - Find Ways to Let Joy Balance the Pain in Your Life - Allowing laughter and love in between the bouts of pain can not only strengthen you for the next pain, but make the grief less overwhelming, and increase your capacity to be comfortable when challenging times do come.
Living with Rejection
As a final note from Dr. McCoy about living with rejection:
"Even if today looks hopeless, tomorrow, next year, or the next may bring a surprise that will make the pain of rejection a sad memory, rather than a daily reality.  And even if that phone call or email or text never comes, it's possible to build a good life for yourself.  By avoiding the emotional dead end of rumination; by letting the grief process carry you beyond victimhood; by re-imagining your life filled with good times, good people, and love; by keeping the door open to your estranged loved one, you can build a full and satisfying life, balancing the pain of estrangement with ongoing love and hope."
*To Hear the Interview, Click on This: Beyond 50